July 2020
---
We have a HUGE selection of used Subaru at GREAT prices this month. 

---
Purchase and Lease Specials

---
 July Subaru Finance Specials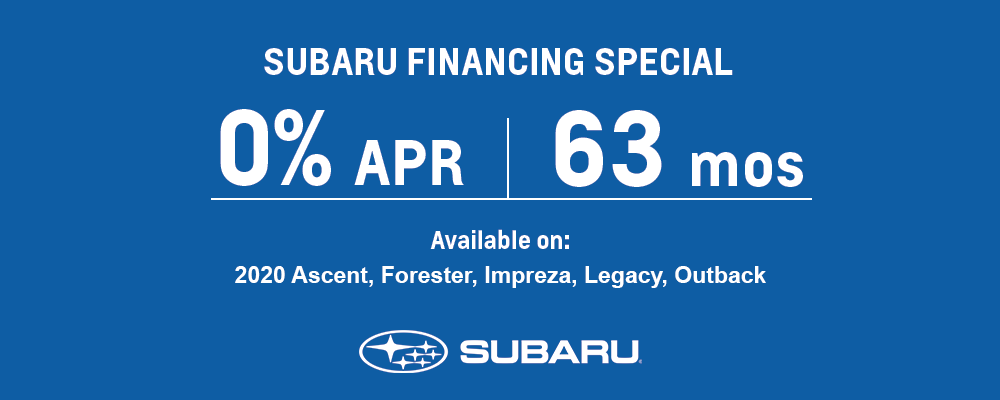 Don't miss your chance to take advantage of 0 percent financing for 63 months on a 2020 Ascent, Forester, Impreza, Legacy and Outback. Hurry! This incredible financing opportunity ends July 31. 
---

Specials Navigation
Chevrolet Sales Hours
Monday

8:00am -6:00pm

Tuesday

8:00am -6:00pm

Wednesday

8:00am -6:00pm

Thursday

8:00am -6:00pm

Friday

8:00am -6:00pm

Saturday

8:00am -6:00pm

Sunday

Closed
See All Department Hours
Dealership Hours
Monday

8:00am -6:00pm

Tuesday

8:00am -6:00pm

Wednesday

8:00am -6:00pm

Thursday

8:00am -6:00pm

Friday

8:00am -6:00pm

Saturday

8:00am -6:00pm

Sunday

Closed
Parts Dept. Hours
Monday

7:30AM to 5:00PM

Tuesday

7:30AM to 5:00PM

Wednesday

7:30AM to 5:00PM

Thursday

7:30AM to 5:00PM

Friday

7:30AM to 5:00PM

Saturday

8:00AM to 4:00PM

Sunday

Closed
Service Dept. Hours
Monday

7:30AM to 5:00PM

Tuesday

7:30AM to 5:00PM

Wednesday

7:30AM to 5:00PM

Thursday

7:30AM to 5:00PM

Friday

7:30AM to 5:00PM

Saturday

8:00AM to 4:00PM

Sunday

Closed
Subaru Sales Hours
Monday

8 a.m. - 6 p.m.

Tuesday

8 a.m. - 6 p.m.

Wednesday

8 a.m. - 6 p.m.

Thursday

8 a.m. - 6 p.m.

Friday

8 a.m. - 6 p.m.

Saturday

8 a.m. - 6 p.m.

Sunday

Closed
See All Department Hours
Cadillac Sales Hours
Monday

8 a.m. - 6 p.m.

Tuesday

8 a.m. - 6 p.m.

Wednesday

8 a.m. - 6 p.m.

Thursday

8 a.m. - 6 p.m.

Friday

8 a.m. - 6 p.m.

Saturday

8 a.m. - 6 p.m.

Sunday

Closed
See All Department Hours