PURCHASE SPECIALS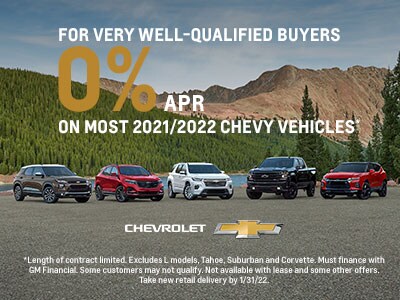 Don't miss 0% APR on most 2021 and 2022 Chevy vehicles!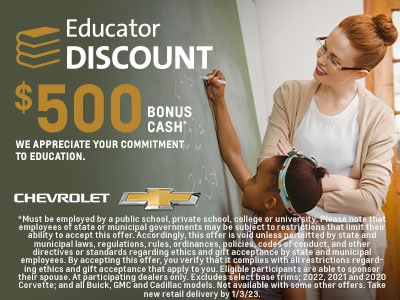 The Chevy Educator discount is back!
Check eligibility
and
learn
how you can save an additional $500 on your next purchase.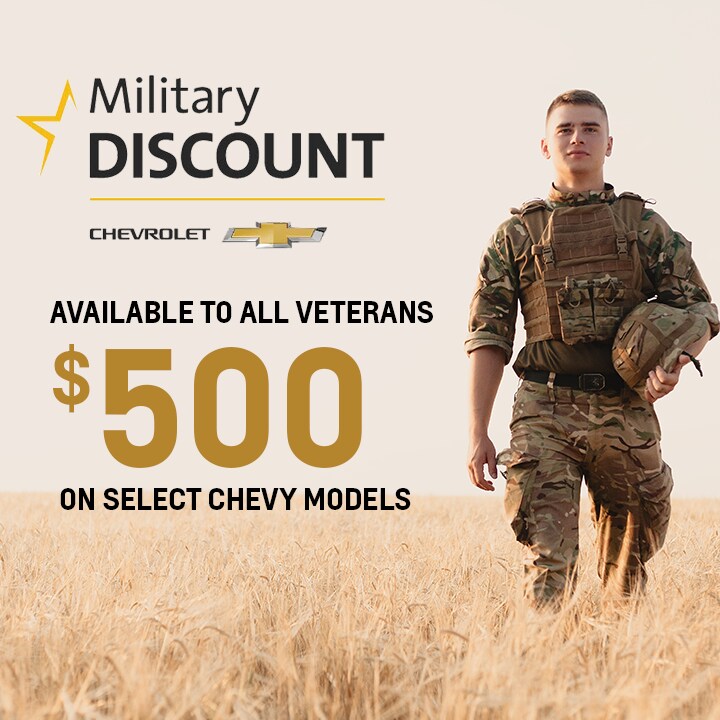 The GM Military Discount for ALL VETERANS has been extended. Don't miss an extra $500 consumer cash on select Chevy vehicles.
Learn more
. 
---
LEASE SPECIALS 
Coming soon. 
We're sorry, we do not currently have any specials published. Please check back soon or contact us for more information.
Specials Navigation
Chevrolet Sales Hours
Monday

8 a.m. - 6:30 p.m.

Tuesday

8 a.m. - 6:30 p.m.

Wednesday

8 a.m. - 6:30 p.m.

Thursday

8 a.m. - 6:30 p.m.

Friday

8 a.m. - 6:30 p.m.

Saturday

8 a.m. - 6:30 p.m.

Sunday

Closed
See All Department Hours
Dealership Hours
Monday

8 a.m. - 6:30 p.m.

Tuesday

8 a.m. - 6:30 p.m.

Wednesday

8 a.m. - 6:30 p.m.

Thursday

8 a.m. - 6:30 p.m.

Friday

8 a.m. - 6:30 p.m.

Saturday

8 a.m. - 6:30 p.m.

Sunday

Closed
Parts Dept. Hours
Monday

7:30AM to 6:00PM

Tuesday

7:30AM to 6:00PM

Wednesday

7:30AM to 6:00PM

Thursday

7:30AM to 6:00PM

Friday

7:30AM to 6:00PM

Saturday

8:00AM to 4:00PM

Sunday

Closed
Service Dept. Hours
Monday

7:30AM to 6:00PM

Tuesday

7:30AM to 6:00PM

Wednesday

7:30AM to 6:00PM

Thursday

7:30AM to 6:00PM

Friday

7:30AM to 6:00PM

Saturday

8:00AM to 4:00PM

Sunday

Closed
Subaru Sales Hours
Monday

8 a.m. - 6:30 p.m.

Tuesday

8 a.m. - 6:30 p.m.

Wednesday

8 a.m. - 6:30 p.m.

Thursday

8 a.m. - 6:30 p.m.

Friday

8 a.m. - 6:30 p.m.

Saturday

8 a.m. - 6:30 p.m.

Sunday

Closed
See All Department Hours
Cadillac Sales Hours
Monday

8 a.m. - 6 p.m.

Tuesday

8 a.m. - 6 p.m.

Wednesday

8 a.m. - 6 p.m.

Thursday

8 a.m. - 6 p.m.

Friday

8 a.m. - 6 p.m.

Saturday

8 a.m. - 6 p.m.

Sunday

Closed
See All Department Hours