PURCHASE SPECIALS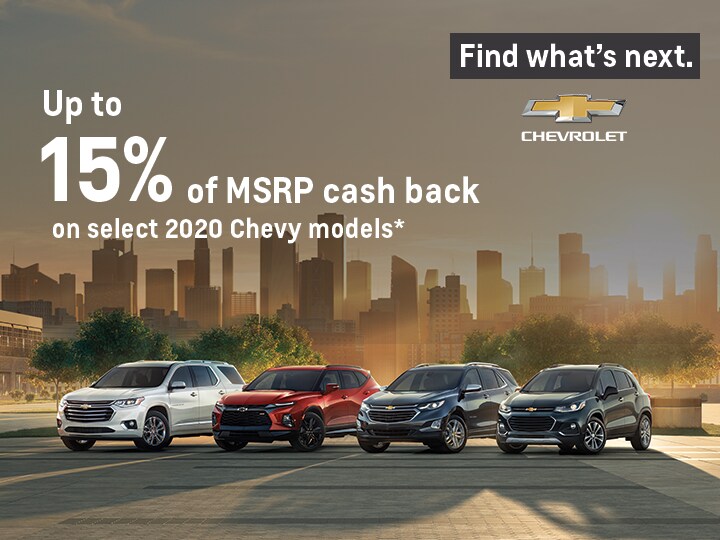 Take advantage of up to 15 percent of MSRP cash back on select Chevy models. Ends September 30.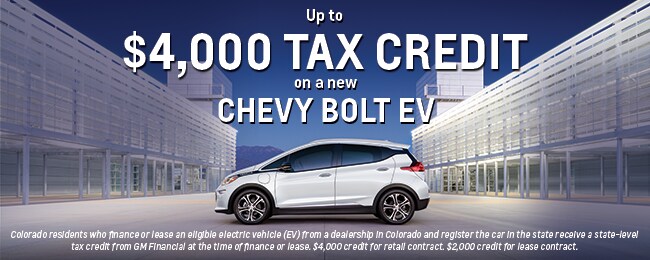 Big news for Colorado residents! A $4,000 tax credit is available on a new Chevy Bolt EV if you purchase and register it in state. 
---
LEASE SPECIALS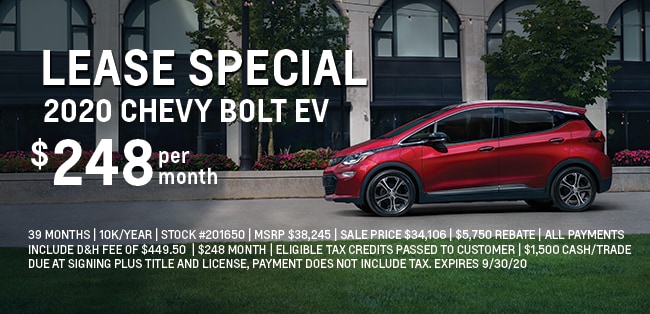 Take advantage of this incredible lease offer on a new Chevy Bolt EV!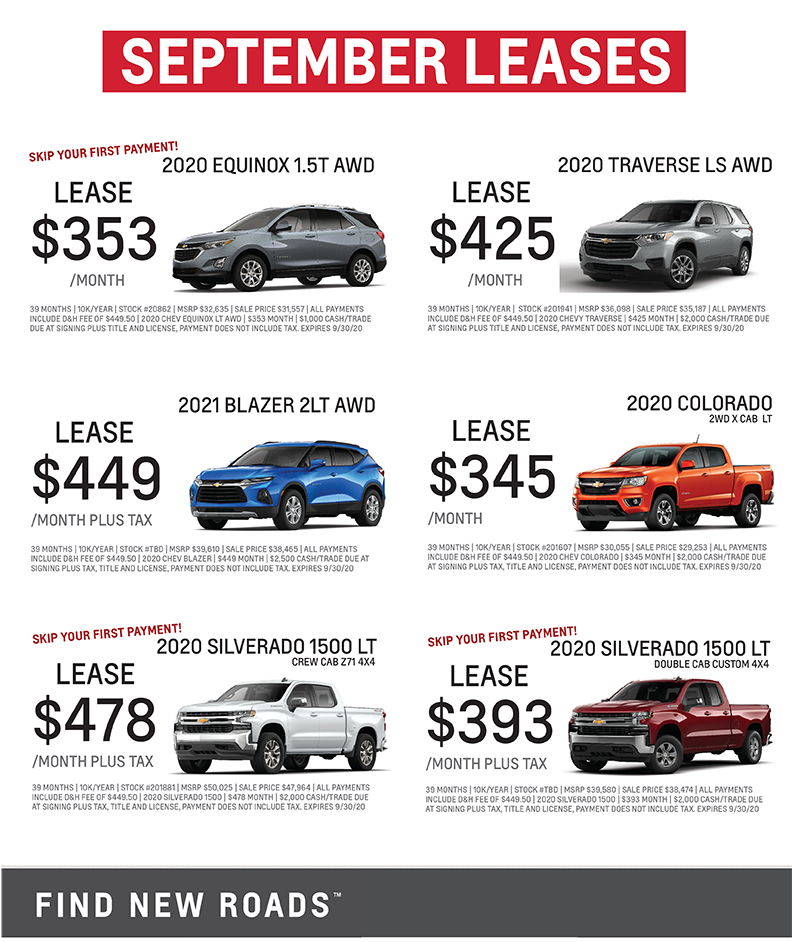 Specials Navigation
Chevrolet Sales Hours
Monday

8:00am -6:00pm

Tuesday

8:00am -6:00pm

Wednesday

8:00am -6:00pm

Thursday

8:00am -6:00pm

Friday

8:00am -6:00pm

Saturday

8:00am -6:00pm

Sunday

Closed
See All Department Hours
Dealership Hours
Monday

8:00am -6:00pm

Tuesday

8:00am -6:00pm

Wednesday

8:00am -6:00pm

Thursday

8:00am -6:00pm

Friday

8:00am -6:00pm

Saturday

8:00am -6:00pm

Sunday

Closed
Parts Dept. Hours
Monday

7:30AM to 5:00PM

Tuesday

7:30AM to 5:00PM

Wednesday

7:30AM to 5:00PM

Thursday

7:30AM to 5:00PM

Friday

7:30AM to 5:00PM

Saturday

8:00AM to 4:00PM

Sunday

Closed
Service Dept. Hours
Monday

7:30AM to 5:00PM

Tuesday

7:30AM to 5:00PM

Wednesday

7:30AM to 5:00PM

Thursday

7:30AM to 5:00PM

Friday

7:30AM to 5:00PM

Saturday

8:00AM to 4:00PM

Sunday

Closed
Subaru Sales Hours
Monday

8 a.m. - 6 p.m.

Tuesday

8 a.m. - 6 p.m.

Wednesday

8 a.m. - 6 p.m.

Thursday

8 a.m. - 6 p.m.

Friday

8 a.m. - 6 p.m.

Saturday

8 a.m. - 6 p.m.

Sunday

Closed
See All Department Hours
Cadillac Sales Hours
Monday

8 a.m. - 6 p.m.

Tuesday

8 a.m. - 6 p.m.

Wednesday

8 a.m. - 6 p.m.

Thursday

8 a.m. - 6 p.m.

Friday

8 a.m. - 6 p.m.

Saturday

8 a.m. - 6 p.m.

Sunday

Closed
See All Department Hours