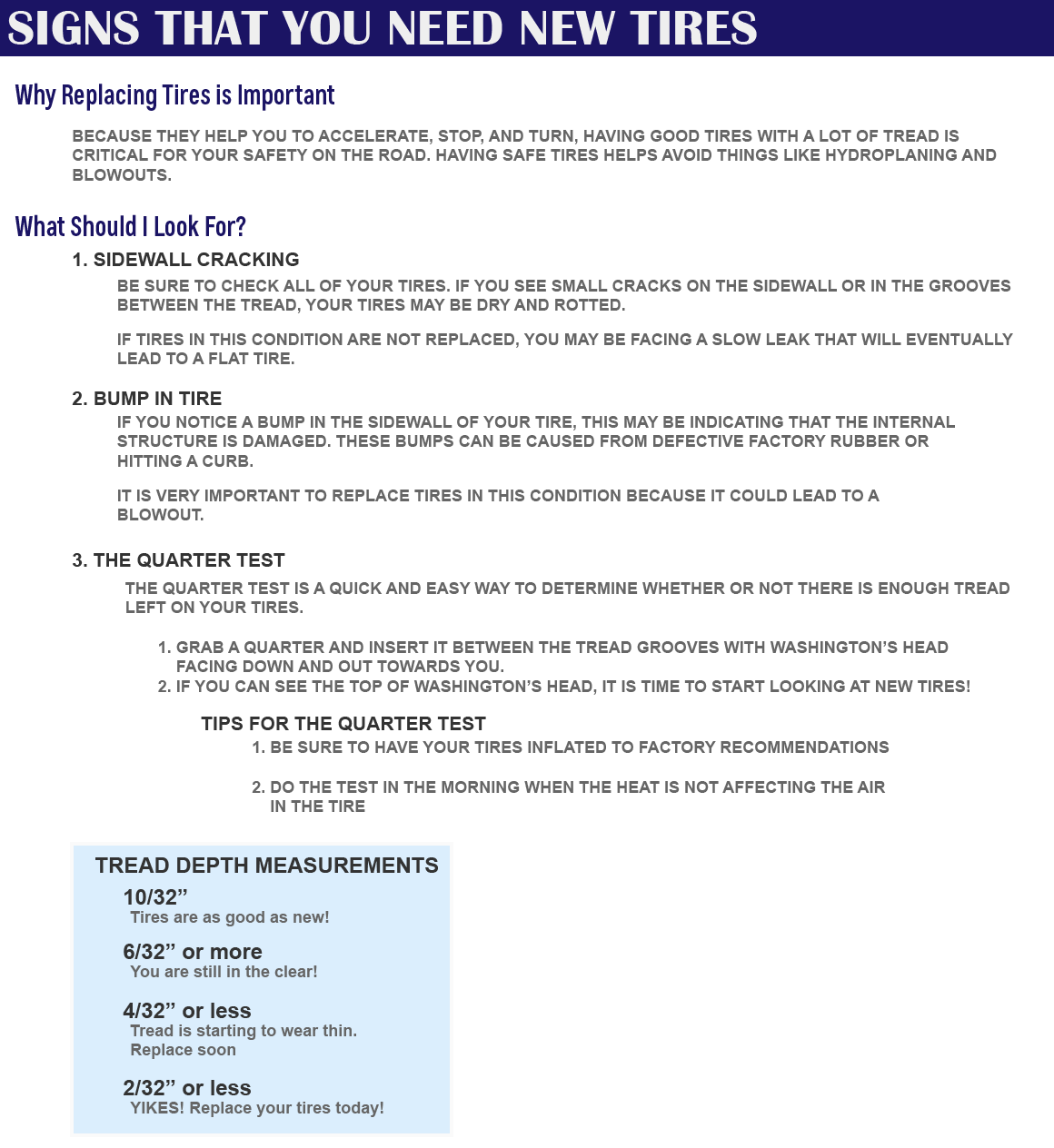 ---
SIGNS THAT YOU NEED NEW TIRES
Why Replacing Tires is Important
BECAUSE THEY HELP YOU TO ACCELERATE, STOP, AND TURN, HAVING GOOD TIRES WITH A LOT OF TREAD IS
CRITICAL FOR YOUR SAFETY ON THE ROAD. HAVING SAFE TIRES HELPS AVOID THINGS LIKE HYDROPLANING AND
BLOWOUTS.
IF TIRES IN THIS CONDITION ARE NOT REPLACED, YOU MAY BE FACING A SLOW LEAK THAT WILL EVENTUALLY
LEAD TO A FLAT TIRE.
2. BUMP IN TIRE

IF YOU NOTICE A BUMP IN THE SIDEWALL OF YOUR TIRE, THIS MAY BE INDICATING THAT THE INTERNAL
STRUCTURE IS DAMAGED. THESE BUMPS CAN BE CAUSED FROM DEFECTIVE FACTORY RUBBER OR
HITTING A CURB.
IT IS VERY IMPORTANT TO REPLACE TIRES IN THIS CONDITION BECAUSE IT COULD LEAD TO A
BLOWOUT.
3. THE QUARTER TEST

THE QUARTER TEST IS A QUICK AND EASY WAY TO DETERMINE WHETHER OR NOT THERE IS ENOUGH TREAD
LEFT ON YOUR TIRES.

1. GRAB A QUARTER AND INSERT IT BETWEEN THE TREAD GROOVES WITH WASHINGTON'S HEAD
FACING DOWN AND OUT TOWARDS YOU.
2. IF YOU CAN SEE THE TOP OF WASHINGTON'S HEAD, IT IS TIME TO START LOOKING AT NEW TIRES!

TIPS FOR THE QUARTER TEST
1. BE SURE TO HAVE YOUR TIRES INFLATED TO FACTORY RECOMMENDATIONS

2. DO THE TEST IN THE MORNING WHEN THE HEAT IS NOT AFFECTING THE AIR
IN THE TIRE


TREAD DEPTH MEASUREMENTS

10/32" - Tires are as good as new!

6/32" or more - You are still in the clear!

4/32" or less - Tread is starting to wear thin. Replace soon

2/32" or less - YIKES! Replace your tires today!