PURCHASE SPECIALS

Dellenbach Motors is pleased to announce that f
rom April 1 to June 30, 2020, 
healthcare professionals are now part of the GM First Responder Discount Program.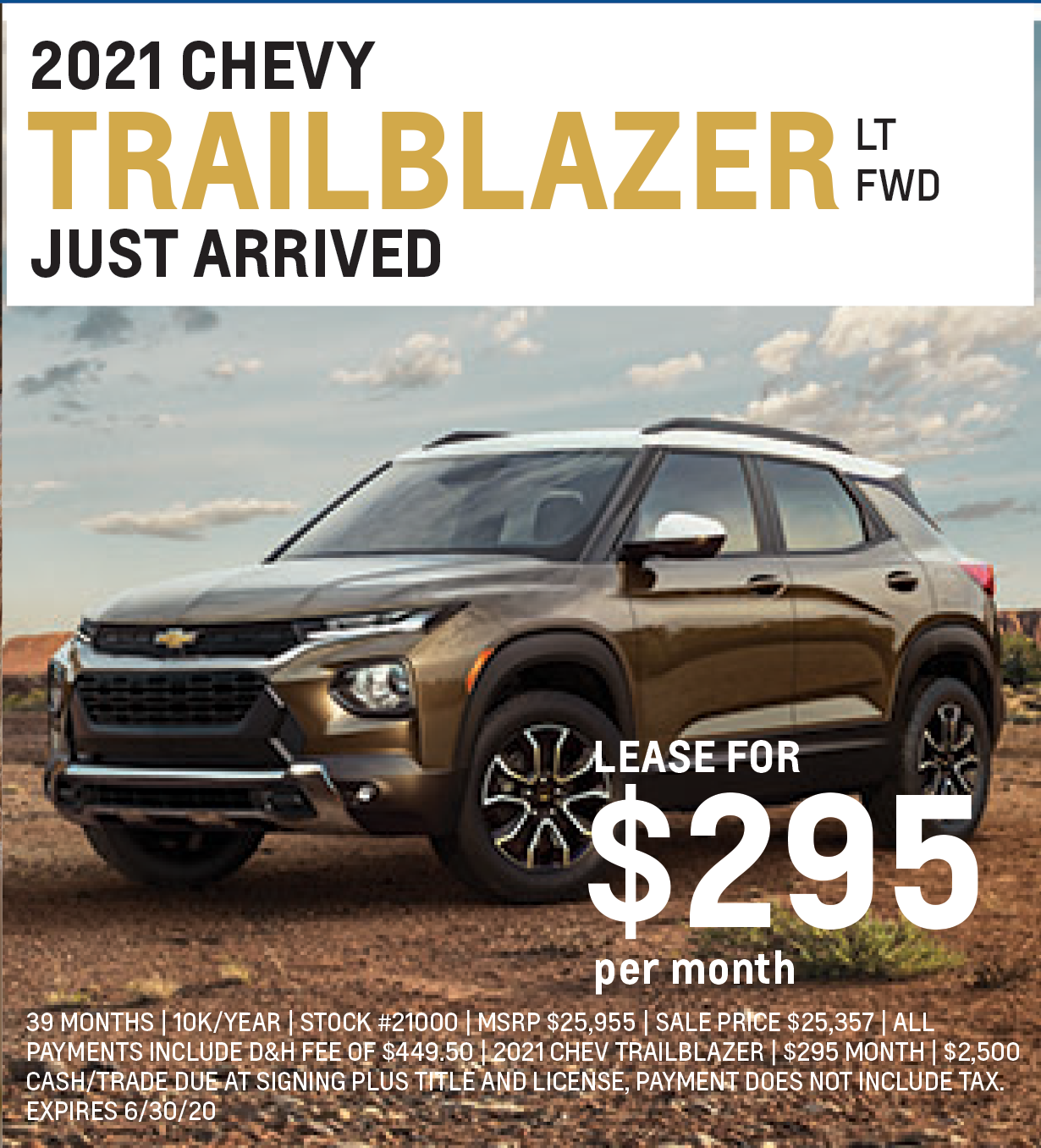 It's finally here! The 2021 Chevy Trailblazer in on our lot and ready for your driveway. Lease yours for as low as $295 per month!
Start shopping
for your new
Chevy Trailblazer in Fort Collins
today!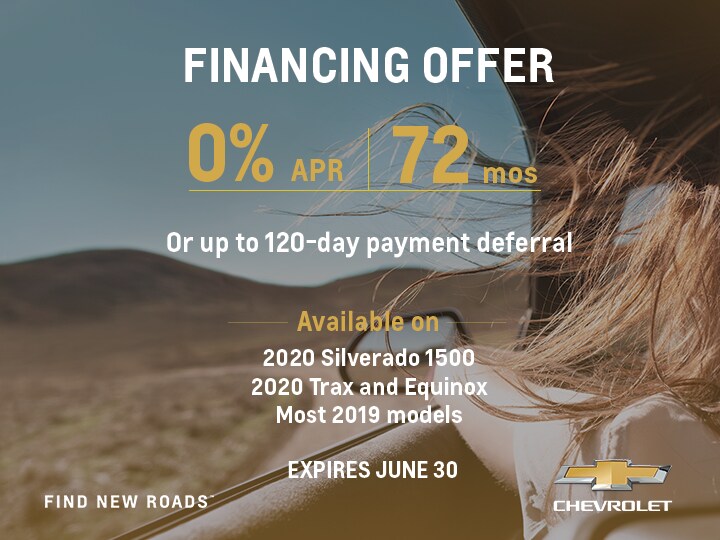 Take advantage of 0% for 72 months through June 30!
---
LEASE SPECIALS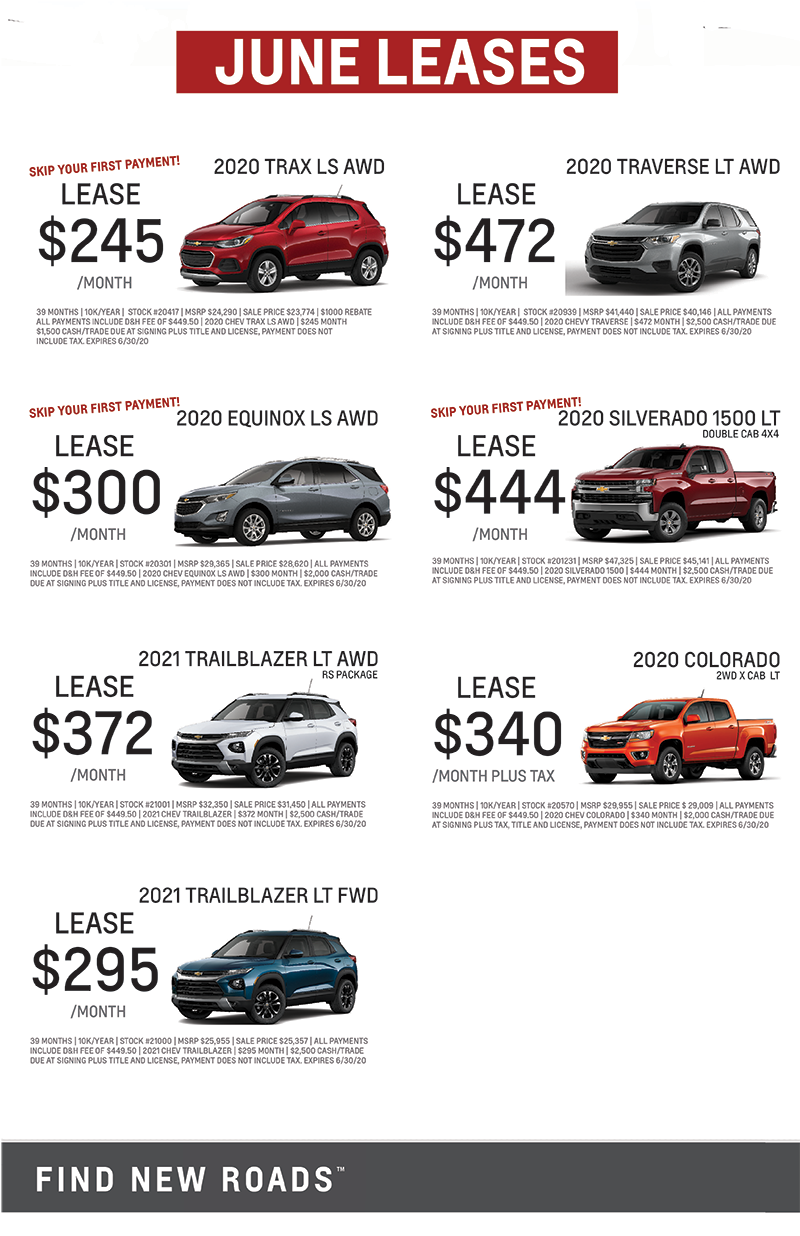 Specials Navigation
Chevrolet Sales Hours
Monday

8:00am -6:00pm

Tuesday

8:00am -6:00pm

Wednesday

8:00am -6:00pm

Thursday

8:00am -6:00pm

Friday

8:00am -6:00pm

Saturday

8:00am -6:00pm

Sunday

Closed
See All Department Hours
Dealership Hours
Monday

8:00am -6:00pm

Tuesday

8:00am -6:00pm

Wednesday

8:00am -6:00pm

Thursday

8:00am -6:00pm

Friday

8:00am -6:00pm

Saturday

8:00am -6:00pm

Sunday

Closed
Parts Dept. Hours
Monday

7:30AM to 5:00PM

Tuesday

7:30AM to 5:00PM

Wednesday

7:30AM to 5:00PM

Thursday

7:30AM to 5:00PM

Friday

7:30AM to 5:00PM

Saturday

8:00AM to 4:00PM

Sunday

Closed
Service Dept. Hours
Monday

7:30AM to 5:00PM

Tuesday

7:30AM to 5:00PM

Wednesday

7:30AM to 5:00PM

Thursday

7:30AM to 5:00PM

Friday

7:30AM to 5:00PM

Saturday

8:00AM to 4:00PM

Sunday

Closed
Subaru Sales Hours
Monday

8 a.m. - 6 p.m.

Tuesday

8 a.m. - 6 p.m.

Wednesday

8 a.m. - 6 p.m.

Thursday

8 a.m. - 6 p.m.

Friday

8 a.m. - 6 p.m.

Saturday

8 a.m. - 6 p.m.

Sunday

Closed
See All Department Hours
Cadillac Sales Hours
Monday

8 a.m. - 6 p.m.

Tuesday

8 a.m. - 6 p.m.

Wednesday

8 a.m. - 6 p.m.

Thursday

8 a.m. - 6 p.m.

Friday

8 a.m. - 6 p.m.

Saturday

8 a.m. - 6 p.m.

Sunday

Closed
See All Department Hours