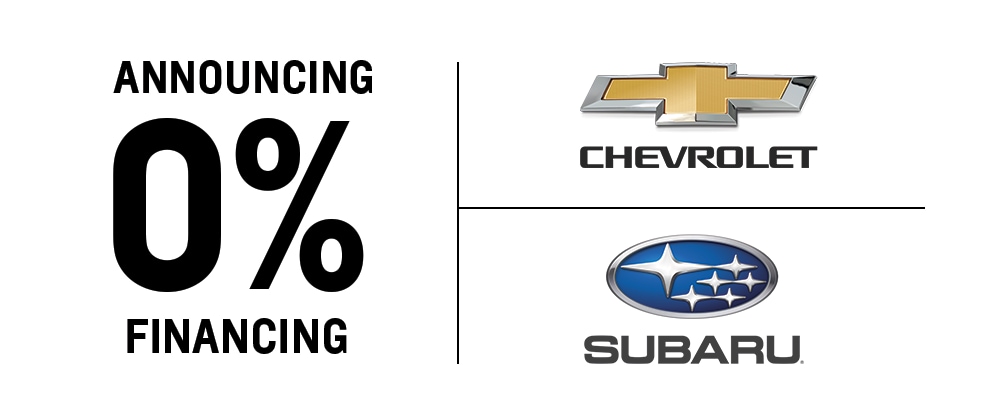 April may be the best time ever to finance a vehicle at Dellenbach Chevrolet or Dellenbach Subaru in Fort Collins.
GM recently extended 0% financing for 84 months to April 7. This offer includes a 120-day payment deferral option at the 84-month term. It applies to all 2019 models (excluding SAP) – yes, even the Corvette! It also applies to the 2020 Silverado 1500, 2020 Trax and 2020 Equinox (excluding 1SM).

Attention Subaru drivers.

Not to be outdone, Subaru has also extended 0% financing for 63 months on the 2020 Ascent, 2020 Forester, 2020 Impreza, 2020 Legacy and 2020 Outback.
0.9% is available for up to 72 months.

This offer is valid through April 30.

Don't miss out on these incredible financing opportunities. If you've even been considering a new Chevy or Subaru now is definitely the time to make your move.
---
Dellenbach Motors is a new Chevy, Subaru and Cadillac dealer in Fort Collins. Dellenbach also offers used cars, trucks and SUVs for sale. We welcome buyers from Loveland, Greeley, Windsor, Wellington and the rest of Northern Colorado. If you're in Laramie or Cheyenne, WY and looking for a new or used Chevy dealer, take the short drive down I25 to Dellenbach. Family owned since 1965, we're here for all of your new and used car needs. Visit us just south of Colorado State University at 3111 S. College Ave.