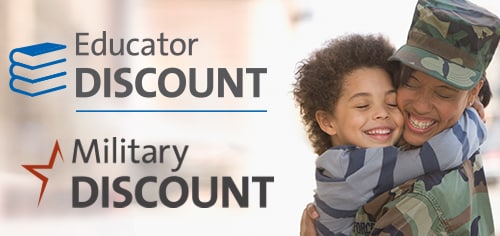 Did you know Dellenbach Motors proudly participates in the GM
Educator
and
Military
Discount program? Discounts can be combined with current offers to save even more!
Whether you're local in Fort Collins and Loveland, or want to make the short drive down from Laramie or Cheyenne, Wyoming, if you're in the market for a new Chevy or Cadillac, stop by and let us help you combine your discount with other incentives so you can drive away in the perfect vehicle.
See eligibility requirements below:
GM Education Discount at Dellenbach
If you're a current employee of a public school, private school, university or college, you are eligible for the GM Educator Discount. Eligible participants are able to sponsor their spouse and dependent children and stepchildren, provided the children are either under 21 years of age or full-time students under 25 years of age on the date of purchase.
Learn more
GM Military Discount at Dellenbach
Exclusive pricing on eligible, new vehicles is available to the following: Active Duty members, Reservists, National Guard members, Veterans within three years of discharge date and Retirees of the U.S. Army, Navy, Air Force, Marine Corps and Coast Guard.
Learn more
So what are you waiting for? You've earned your discount and your new Chevy or Cadillac is waiting for you!