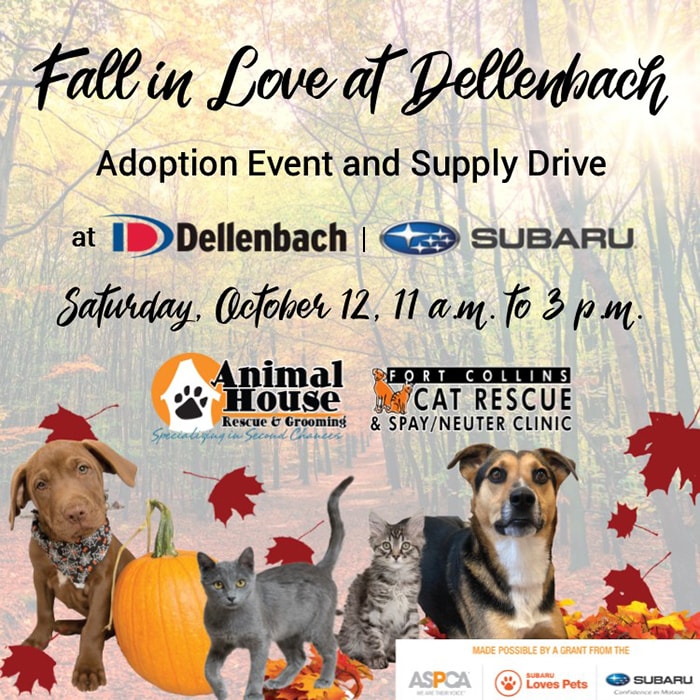 You're invited! "Fall in Love" with your new best friend at this special event hosted by Animal House Rescue & Grooming, Fort Collins Cat Rescue & Spay/Neuter Clinic, and Dellenbach Subaru!
Sponsored by Subaru Loves Animals and ASPCA. This Adoption Event and Supply Drive will take place from 11 a.m. - 3 p.m. on Sat., Oct. 12 at Dellenbach Subaru, 3103 S. College Ave. Meet adoptable puppies, kittens, cats, and dogs?and bring a gift for the animals! Wish List:
Dry cat food

Wet cat food

Wet dog food

Soft/chewy dog treats

Cat treats

Rawhides

Puppy chew toys

Laundry pods

Bleach

Paper Towels
If you would like to fill out the questionnaire at the event, please have with you the following:
1. Your vet's information (name, phone number) - if you have pets currently
2. Your landlord's name & or apartment name if you rent
3. Whether current pets in the household are up-to-date on vaccines
If you have a dog in your household and would like to find a new buddy, you are welcome to bring your dog for a meet and greet!
**Please do not bring your cat to the event.
Animal House Rescue & Grooming and Fort Collins Cat Rescue & Spay/Neuter Clinic are dedicated to the animals we adopt out for their lifetimes, which means we are here for you and your new friend, even post adoption - and will always take back animals adopted from them for any reason.
*Animal House Rescue & Grooming has a 2-week policy, if the dog you adopted is not the right fit, you can bring him/her back to the shelter for a refund (minus $25) within 14 days.